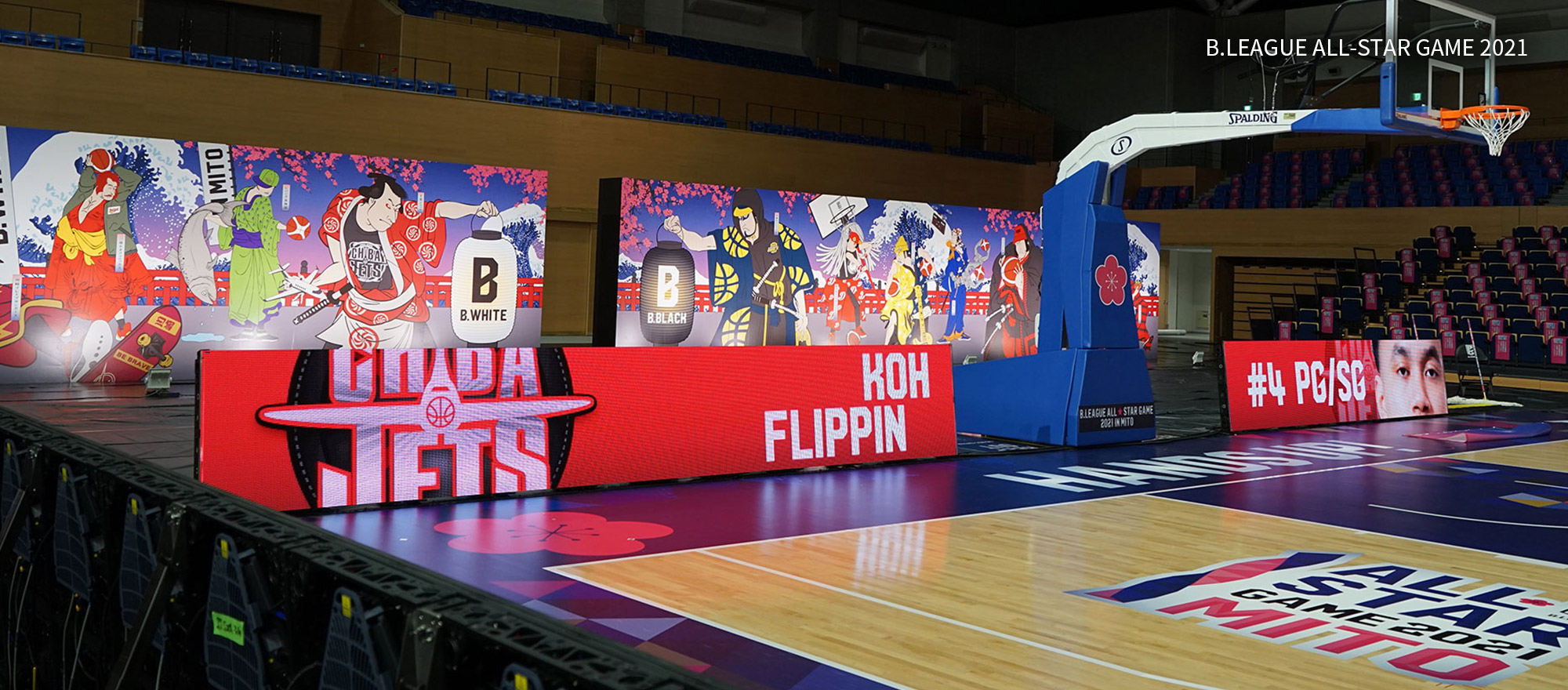 Passing the memorable moment
to the future
Total support for all your Visual presentation needs,
from AV systems planning through project implementation
For over 30 years, hibino visual Div. has supported our customers by planning visual systems and providing the widest selection of AV equipment with our professional operate services in a variety of markets, most notably exhibitions, corporate events and live concerts.
We are proud to provide you with any type of visual solutions with the largest inventory in the industry and the abundant experience of our expert staff which have been built up over many years.
Lately the demand of live streaming has increased worldwide.
As one of our focusing field, we are ready to offer you with the most spectacular virtual AR/XR solutions.
Active Field
Concerts and other events

SATANIC CARNIVAL '19

FUJI ROCK 2019

Currently owing LED displays covering a total approx. 10,001 sqm.
We can cover any types of venue from live music venues to Halls, Arenas, Domes and Stadiums, both domestic and international artists with our superiority in AV field.

Sports events

B.LEAGUE ALL-STAR GAME 2020

TOYOTA BIG AIR

With our wide variety of Indoor & Outdoor LED screens, we liven up your sport event at any scale, from domestic leagues and tournaments to World Championship.
Our mobile LED screens with the generator will also come in handy for the course side of the road races.

Corporate events/ trade shows

TOKYO MOTOR SHOW 2019 TOYOTA BOOTH

The 67th Sapporo Snow Festival Snowy HTB Park

For important presentation, we will offer high-definition LED display sort of 1.5mm to 5.00mm has outstanding appeal effect.
Also we can provide a variety of product such as mobile vehicle-mounted LED display systems for public viewings event.

Conventions

Owning the operational know-how to handle any scales of events from small meetings to large ones allow thousands of attendances such as those at international conferences or academic symposiums.
Our specialized convention team is a pioneer in the use of high-definition digital technology and have expertise in both of hardware and software will propose the visual solutions according to each customer's requests.
Case study
Rugby World Cup 2019 Live broadcast of the final. LED and large images at Shiba park.(20191102)

Examples for disguise,BlackTrax,NOTCH [Demonstration]

We operated the image of B.LEAGUE FINAL 2016-17
Office
hibino visual Div.

Hibino Hinode Building, 2-7-70, Kaigan, Minato-ku, Tokyo 105-0022, Japan
TEL : +81-3-5419-1611
FAX : +81-3-5419-1612

Osaka Branch

18-8 Toyotsu-cho, Suita-shi , Osaka 564-0051, Japan
TEL : +81-6-6339-3895
FAX : +81-6-6339-3896

Nagoya Branch

3-4-26 Meieki Minami, Nakamura-ku, Nagoya-shi, Aichi 450-0003, Japan
TEL : +81-52-589-2711
FAX : +81-52-589-2719

Sapporo Office

Kotoni3・1 Building,1-1-20, Kotoni 3-Jo, Nishi-ku,Sapporo-shi, Hokkaido 063-0813, Japan
TEL : +81-11-640-1316
FAX : +81-11-640-1317