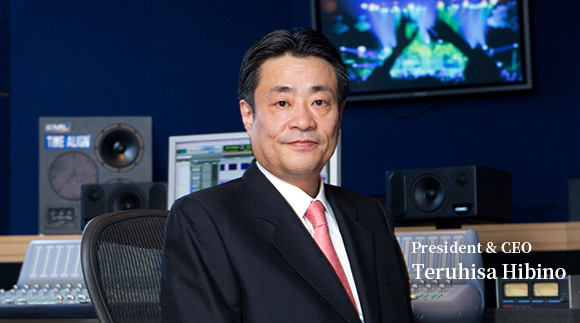 Hibino Corporation, founded in 1964, has marked its 50th anniversary successfully achieving yet another milestone in the history of the company. I would like to express my heartfelt gratitude to all those who have kindly supported us over the years.
I was charmed by music and very interested in live performances when I was young, and I was lucky enough to be able to realize my wish to work on Audio-Visual presentations. Now, the Hibino Group has developed into a corporate entity with more than 1,000 employees. They all share the same wish with me, which provides the biggest driving force for the Group.
Hibino offers products and services in the Audio-Visual field under the concept," The SOUND & VISUAL SPECIALISTS." As a unique company in the industry, we are pursuing excellence in Audio-Visual presentations with state-of-the-art equipment and professional human resources, while concentrating corporate resources on business areas where we have a competitive edge.
From the viewpoint of a presenter, a live performance needs to have the following three elements: compelling sound, attractive content, and a sales point. An ideal live performance has all these elements in an integrated manner, so, at Hibino, we strive to have the following three elements to create and offer a special environment for live performances: equipment and skills to produce compelling sound; equipment and skills to offer attractive content; and a sales point that encourages the audience to participate in the event again.
Moreover, Hibino is committed to living up to the expectations of its customers and building relations of trust with them on a long-term basis, not just on a short-term basis. To fulfill this commitment, I think it is very important for us to have the technical capabilities to develop both equipment and human resources that can help deliver to the audience live performances that incorporate all of the aforementioned elements.
Toward the future, Hibino will implement its vision for the 21st century to become a total solutions company equipped with Audio-Visual and Information Technology (AV & IT) for professionals. We will manage Hibino in an energetic manner as an excellent high-tech company with professionalism, reliability, international caliber and culture, thereby contributing to the creation of a more culturally advanced society.